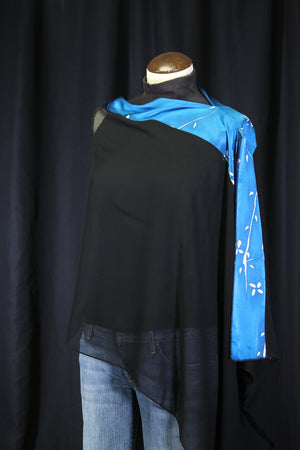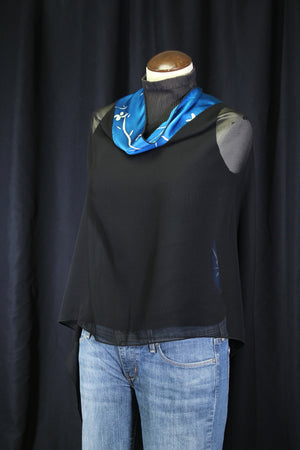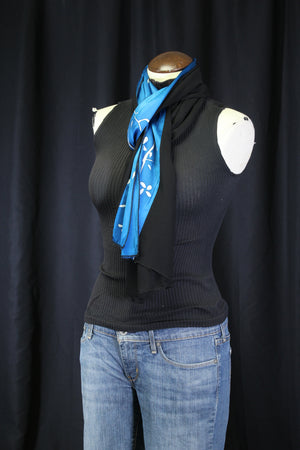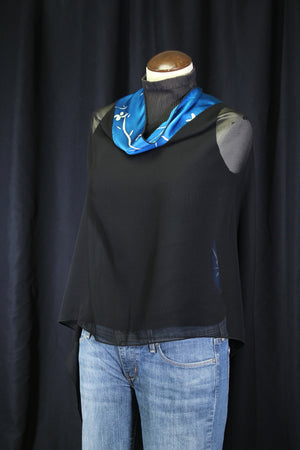 Asymmetrical Poncho - Hand Painted Silk
This striking poncho is unique and adds a pop of color and pizzazz to any outfit. Dress it up with some black slacks or a skirt, or just pair it with jeans for an awesome look.
This hand painted silk poncho comes with a sheer base and a strip of bright, beautifully rich color at the top. 
This awesome poncho can be worn several ways - the split can be worn on the side, revealing one arm or down the back, covering both arms. You can also wear it as a scarf by using the neck hole as an anchor.
There is only a small seam to allow for free range of motion without the fuss of using pins or tying it.
100% Luxurious silk charmeuse and silk chiffon designed and hand painted by Tonya Butcher.
This elegant piece can be worn for all seasons, warm in the winter and cool in the summer.
Care Instructions: Each piece is hand painted and we steam set our dye so that you can hand wash your silk without worry. We do not recommend dry cleaning. You can safely use Dawn dish detergent to wash our silk and roll it in an old towel to get the excess moisture out, hang it up and it will dry very quickly. Enjoy!
**Please allow for a slight variation in color as not all computer monitors are calibrated equally.
***This item is ready to ship and if you are in the US you can have it in as little at 2-3 days. Outside the US may take a bit longer.
Great for travel and as a gift.