ACT FAST! Sale Ends at Midnight Tuesday June 25, 2019
---
"Beautiful Artistry! I recommend Tonya's work to anyone who is looking for that something extra special! Her silks are extraordinary and the delicacy and beauty of her wearable art is incomparable! Her silks are perfect for gifts as well as for a personal treat", (11/15/17) Lynn
---
My wonderful husband Bill and I travel the United States participating in some of the best rated art shows in the nation. I enjoy seeing the country with my love and meeting lots of new people. Each weekend throughout the year I am in a different city.
If I am in your area, please come out and say hello, I look forward to seeing you.
Tonya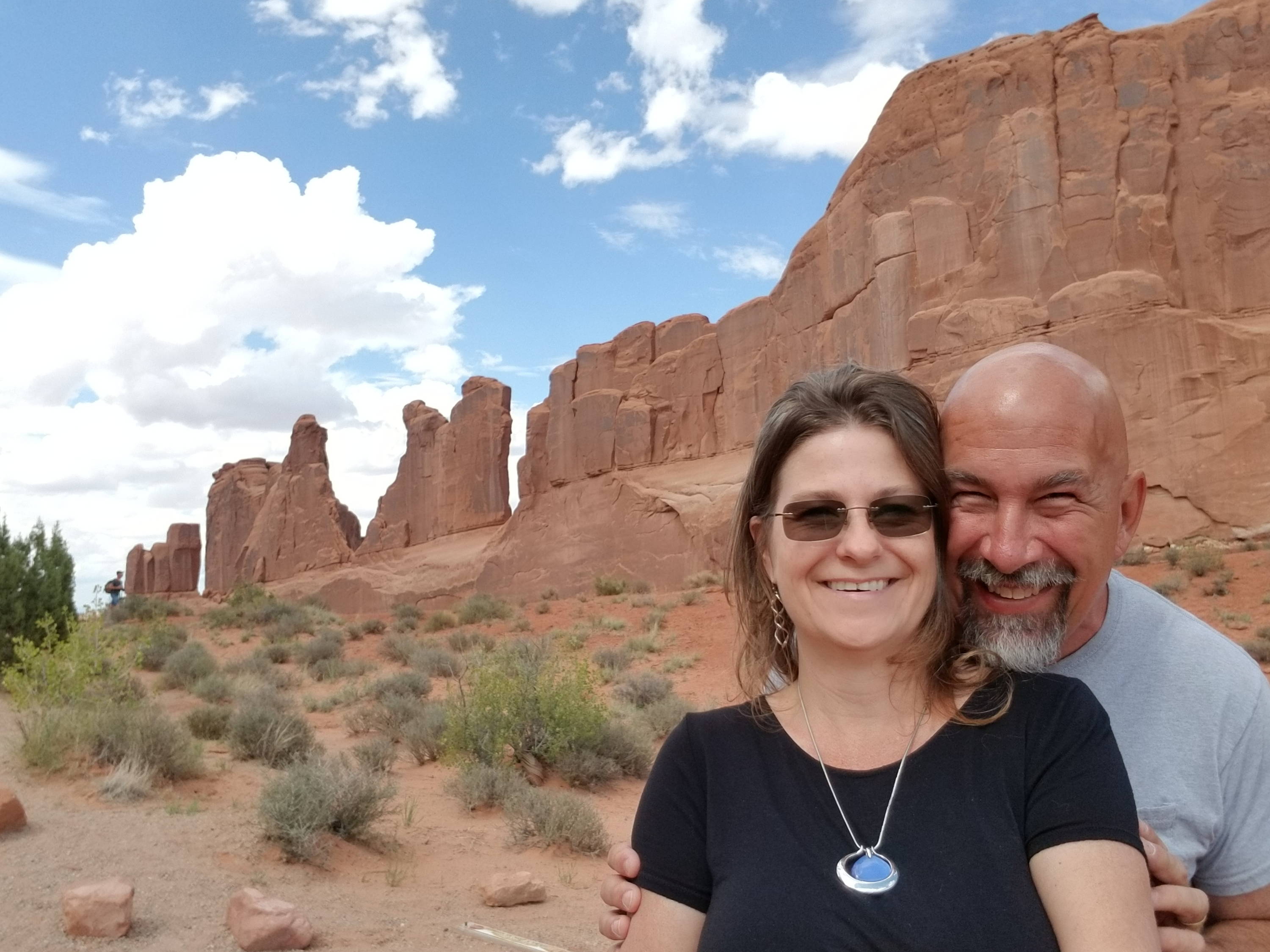 ---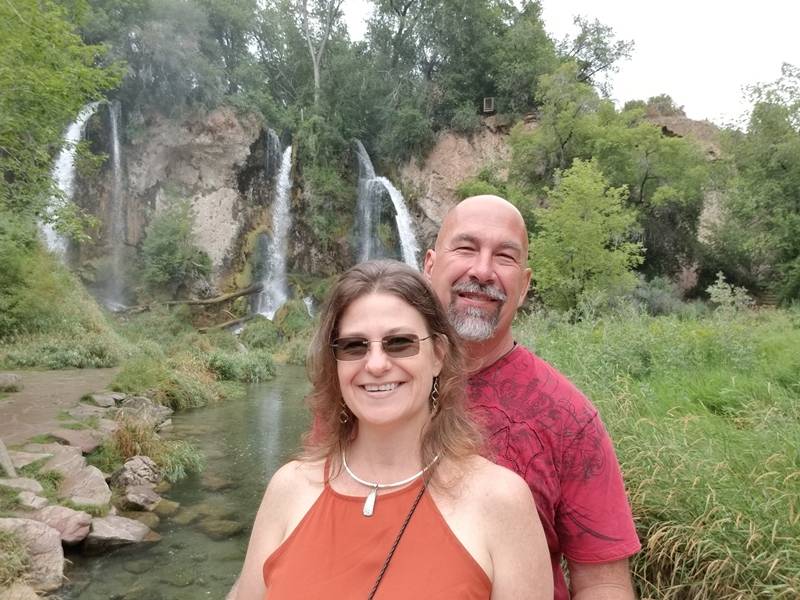 ---
Luxury Hand Painted Silk by Tonya Butcher
I have been painting silk for several years. I have a true passion for vibrant color. Silk painting has been my voice that sings color. My customers tell me that they can recognize my work anywhere due to the vibrant color and design elements. I create lovely hand painted silk scarves, ponchos and blouses. Click here to see some of my designs.
In addition to the silk painting, I also create hand forged scarf / shawl pins. These pins are forged from aluminum wire and they make a fantastic gift to anyone who has a collection of scarves. My scarf pins can be seen here.
I enjoy teaching my craft, so if you are interested in learning how to paint silk like a pro - please contact me.
Over the past couple years we have been doing more traveling to areas of the US for some pretty amazing art shows. I have been grabbing lots of great photos and I want to share some of them with you here. Click the link below.
---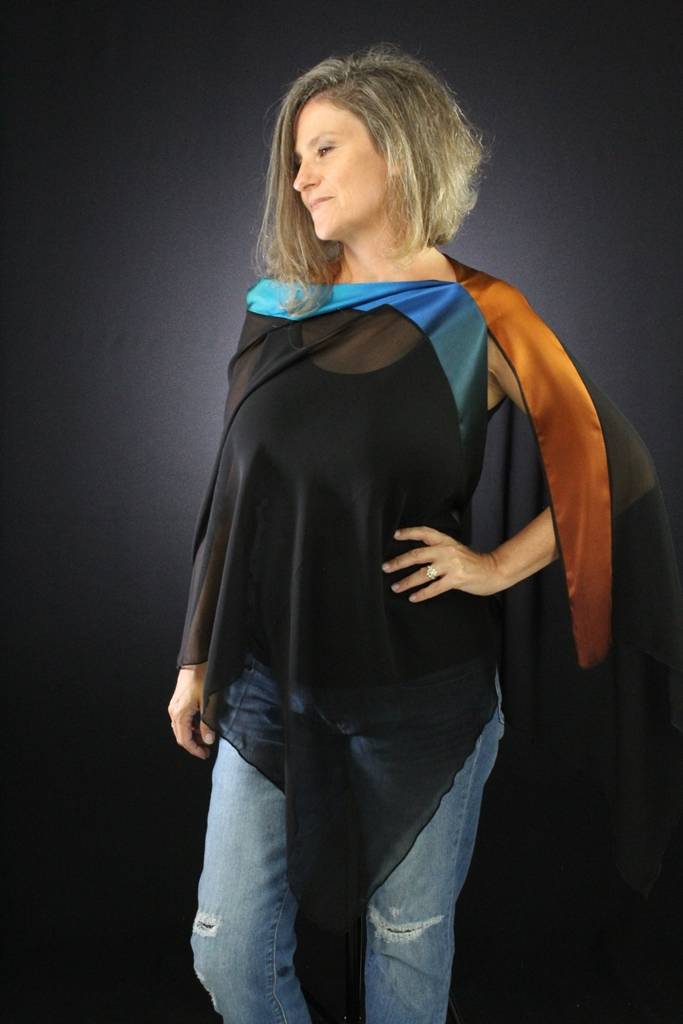 Introducing........
A new line of ponchos, not available on the site....
Only Show Goers Get These!
So check the show schedule above to find out when I will be coming to your town.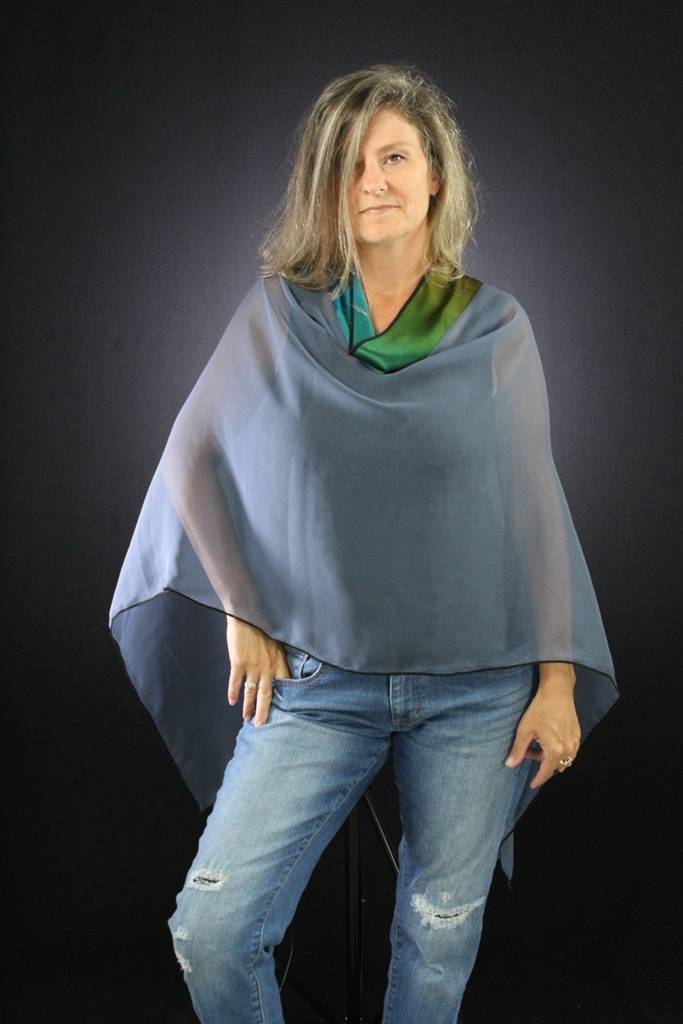 ---
"Vibrant & Beautiful - I absolutely LOVE my silk scarves by Tonya! I happen to be wearing the oblong teal and brown scarf now. The colors and design are captivating! I love peacock designs and colors and she made a small square scarf with a variety of colors and peacock feathers. I can't wait to wear it to work tomorrow with my suit! I'm so glad that I found Tonya. Please keep making your scarves! We need more inspired color and happiness in this world! Thank you Tonya!", (11/8/17) Michelle
Hand Painted Silk Ponchos
My line of hand painted silk ponchos are created in many unique one of a kind designs. I create each poncho from silk chiffon and silk charmeuse.
Each poncho has a unique flavor and they are worn best over a simple black top or dress. These ponchos are multi-function as they can also be worn as a scarf. 
These lovely ponchos make a wonderful gift. So, be the talk of the season with this amazing gift.
More examples of how a poncho can be worn.
Hand Forged Scarf Pin by Tonya Butcher
Each scarf pin is hand forged from aluminum wire and adorned with a peacok feather stamp and inset with Swarovski rhinestones. The stick is also stamped with my website so that you can share me with your friends when they shower you with compliments. The peacock feather represents my logo and signature collection of silk painted scarves.
Hand Forged Scarf Pins by Tonya Butcher
When I began painting silk, I enjoyed wearing my new creations. The one challenge I needed to overcome was the silk sliding on itself while I wore it. I went to my hair clip collection for help. I began using my hair pins to hold the silk and it hit me.....
I began making these elegant scarf pins and WOW has it answered the frustration of scarves and shawls moving around during wear. You too can now enjoy a frustration free experience while you are wearing your silk or knitted scarves and shawls. Not to mention, these scarf pins create many new ways to wear you beautiful scarves.
Yes.... These pins also work well with knitted and woven materials as well as silk. You can even wear them in your hair.
---
---
Each piece is one of a kind. I have created a silk stretching system that works well for my process. Each piece of silk is stretched and painted using only top of the line silk and dye. Most of my pieces are painted in stages and layers to acheive my One-of-a-kind look. I steam set every piece to ensure the dye is permenant. The stem also allows me to acheive the highest level of vibrancy. Once steamed each piece is then washed and ironed.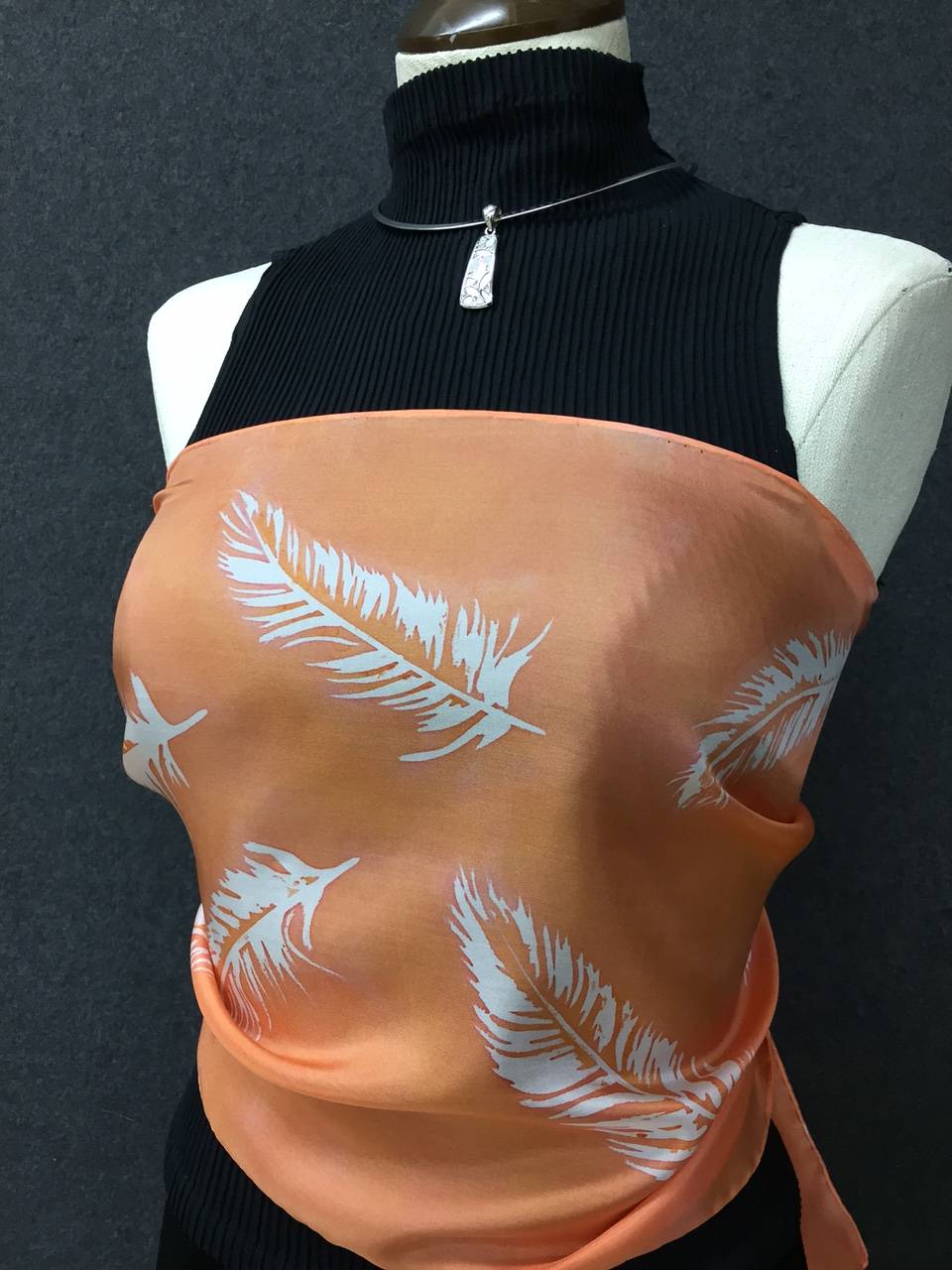 This video shows a feather pattern that I can acheive using hot wax and a paint brush. Once the feathers are painted onto the white silk I then paint the dye avoiding the areas of wax. In this video you can see my silk stretching system.
---
My New Book is Now Available
"100 WAYS TO WEAR A SCARF"
You will love this book! You will see photos and step by step instructions on how I acheived each look.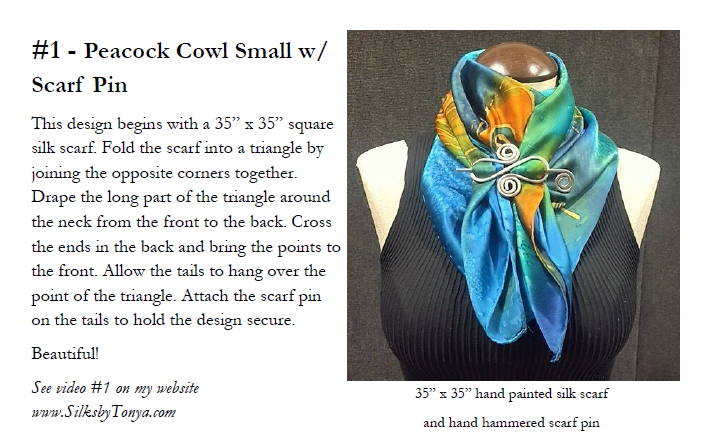 ---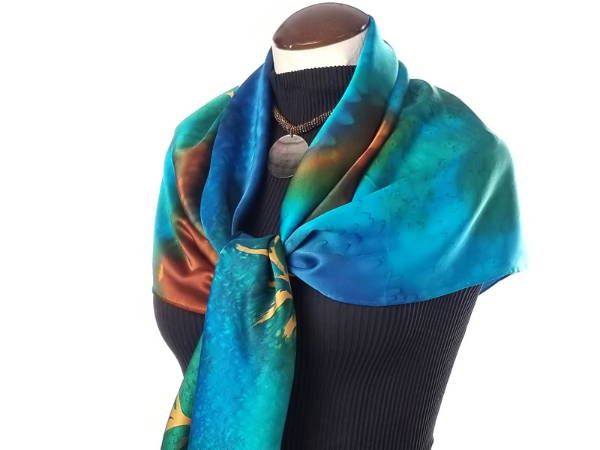 Hello my dear friend, I have been working on a video series to help you wear your lovely scarves. I hope you find these Many Free Videos very helpful.
I would love to see you photos of you wearing your beautiful scarves, email them to me at Photos@SilksbyTonya.com
"I can't beleive just how easy you have made it for me to wear my scarf collection. Several years ago I enheirited a large collection of amazing scarves from my grandmother. They have been sitting in a drawer until I found your videos. Thank you so much for offering these videos at no charge. It has empowered me to bring my grandmothers memories alive again". Aby

---
No One Will Have One Like Yours - Each Piece is "1 of A Kind"
It is my mission to help you look fantastic and assist you in finding that perfect gift for someone special.
I invite you to take a look around and please let me know if I can be of assistance to you. Enjoy.....
---
---