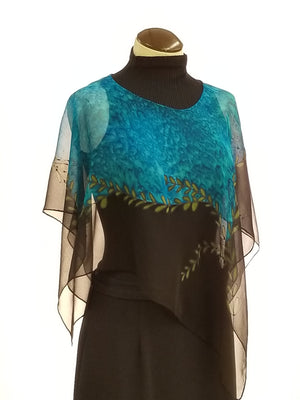 Garden Shoots Poncho Small - Hand Painted Silk Poncho
This striking hand painted silk poncho measures 35" x 35" and is sure to turn heads. Adorned with beautiful tones of blue, green with leaf shoots throughout.
100% Luxurious silk, designed and hand painted by Tonya Butcher.
This elegant piece can be worn for all seasons, It especially looks great over a turtle neck or a tank top.
Can also be used as a scarf.
**Each piece is hand painted per order, the images you see are a representation of the original design. I will paint your piece as close to the image as I can, but please expect slight variations in pattern and color placement.